Workflows used to run solely on paper forms and inter-office mail. Then, they 'evolved' to spreadsheets and email threads. As automation stepped into the game, digital and online workflows became common. While the way workflows are handled has progressed by leaps and bounds, creating them has been an entirely different story.
Originally, anyone with a piece of paper could produce a workflow; generally, business heads defined the path. But as workflows moved to the digital sphere, it was developers and process engineers who took on most of the workflow creation duties. While online workflows added a lot of benefits, it also meant that workflow creation had become too complex for business leaders.
However, as cloud-based online workflows have emerged, some of that power is coming back to the common man and away from the coders-only domain. Creating a workflow online should let you harness the power of digital workflow automation, but be as simple as drawing the workflow on paper.
What is a Workflow?
A workflow is a collection of fixed tasks or sequences performed to accomplish a business process according to a set of predefined rules.
A workflow automates a part or whole of the business process and executes with precision every time by ensuring that the required documents and information progress from one participant to another without any hiccups.
Why Workflows?
Workflows streamline tangled up business processes, minimize the complexities in repetitive tasks, and improve the overall efficiency of a process. In addition to the structure and simplicity, workflows offer numerous other advantages, such as linking data fields to a master dataset. Workflows are important because they:
Eliminate redundant tasks
Spot bottlenecks and process gaps
Enhance accountability
Reduce micromanagement
Keep the process transparent
Improve collaboration
Offer more actionable business insights
However, creating a workflow from the ground up is no small feat. One challenge for the workflow creator is keeping the big picture in mind as they fiddle with forms and conditions.
This is why it is essential to get a better understanding of the whole process before you start looking for a tool to build a workflow.
Steps to Create a Workflow Online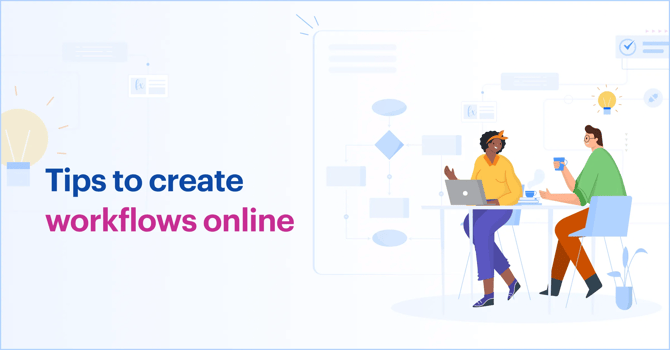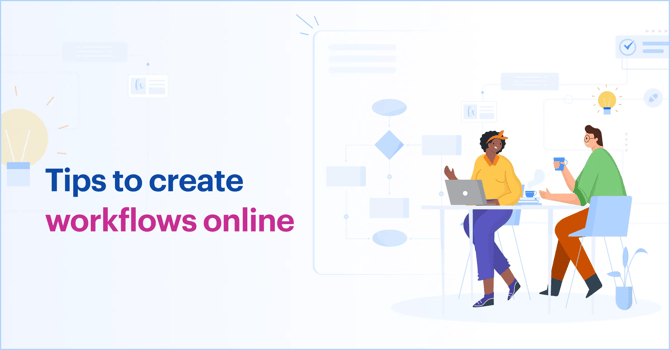 Identify your resources
List out the tasks that should be accomplished
Find out who is accountable for each step and assign roles
Create a

workflow diagram

to visualize the process
Test the workflow you created
Train your team on the new workflow
Deploy the new workflow
By following these simple steps, you can create your own workflow for any business process.
Automated workflow management tools like Kissflow Workflow let you do this, even without needing to know how to code.
Here are the 7 steps to create workflows online:
1. Identify Your Resources
To replicate and improve existing workflows, you need to understand how they are actually handled now. Are workflows managed completely using paper forms? Are there digital forms and email threads? Where or whom do people send the completed or approved forms to?
The resources that make up a workflow are not just restricted to forms and operating procedures; they also include the people involved in the current process. Before creating a workflow for a specific process, talk to process owners and learn about the problems they face in the current method.
For instance, if you're creating a budget approval app, reach out to your finance team and learn how they handle the process manually. Find out what they would expect from an online workflow, and try to replicate it.
2. List Out the Tasks That Should Be Accomplished
Workflows with little to no structure have a linear path of tasks to perform, whereas highly structured workflows have a graph-like sequence of tasks to be completed in parallel, or conditional tasks before moving on to the next step. It is essential to get a thorough understanding of the task structure and the data exchanged in tasks before you design an online workflow.
For example, a travel reimbursement approval workflow needs to fetch the expense data from the initiator and pass it on to the manager. The manager just needs to view the data, not edit it. While approved claims can be forwarded to the finance team for processing with a note of approval, rejected claims have to sent back to the requestor with specific reasoning.
3. Find Out Who Is Accountable for Each Step and Assign Roles
Once you find out the task's structure and nature, look at the people who will be a part of the workflow. Some tasks could move on to the next step automatically, while others may have to be approved or reviewed by someone before it progresses to the next step.
Make note of all stakeholders, their specific responsibilities in the process, and the information they require to perform the task swiftly. Based on that, create specific roles and establish accountability for each task.
In a leave management workflow, an employee might need permission to initiate a leave request (input task), while the manager just needs to approve or reject it based on specific criteria (approval task). Other stakeholders like HR and finance staff might just need to view the approval status.
4. Create Workflow Diagrams to Visualize the Process
Now that you're done with the initial groundwork, you can start sketching out your workflow diagrams. By creating a workflow diagram, you can obtain the visual representation of the complete workflow.
Unless you're very proficient with business process modeling, opt for a simple workflow management tool that lets you create workflows using drag and drop visual tools. Choose a user-friendly tool that is flexible enough to draw a workflow that is a digital version of the paper-based workflow regardless of process complexities.

5. Test the Workflow You Created
If you have created the workflow, this should be the last step, right? Not really. You can not move your processes to an online workflow without testing it.
On the outside, every workflow might look perfect. You will never really know its flaws unless you test it rigorously. Rather than doing this step on your own, involve the people who are part of the workflow. They will help you pinpoint problems faster and figure out what works and what doesn't. Collect their feedback and use the data to modify and improve your automated workflow.
6. Train Your Team on the New Workflow
Your workflow may work like a charm, but that doesn't seal the deal. People do. Even though people have been helpful in giving you input, helping you design, and testing out the workflow, they might be hesitant to let go of their current practice. And most of it is the fear of unknown.
A good training program will eliminate their hesitation and give them the confidence to use the new workflow. Sharing the "create workflow" process and your workflow diagrams will help trainees obtain a better visual picture of what the workflow does, where each task is situated, and their specific role in the workflow.
7. Deploy the New Workflow
Once you're done with the testing and training phase, your workflow is ready to be deployed. As a note of caution, it is better to release the workflow to a small team and check how it works in real-time. Depending on the results, you can either move on and share it with your whole organization or withdraw the application for modification.
You can always go back and create a brand-new workflow when you have a new requirement. In case of policy changes or additional requirements, you can always opt to roll out a new version or update the existing one regularly.
Conclusion
The process of creating a workflow online and implementing it might seem like a huge deal, but with the right no-code workflow platform like Kissflow, anyone can automate workflow in no time. Try Kissflow Workflow and see if it is the right tool for you to create workflows online.