A workflow application is a software tool that automates the tasks involved in a business process. The workflow application routes data along a predefined path until an item in the process is completed. Tasks in the workflow may include approvals, adding information, or data transfers.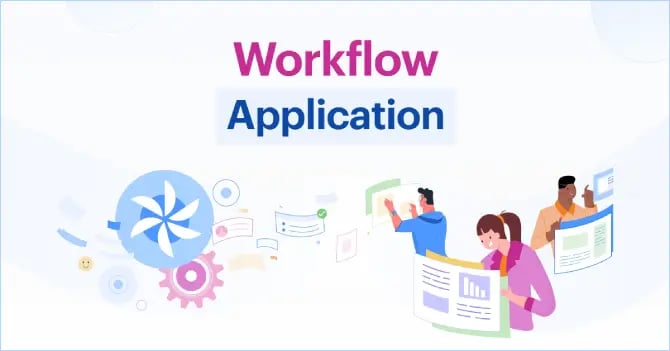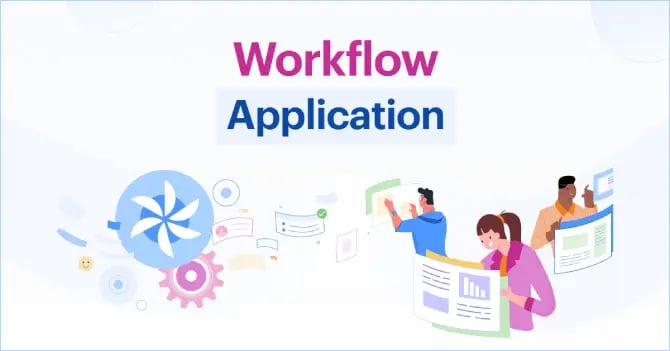 Workflow applications can be standalone apps that exist on their own or built on a platform where endless numbers of applications reside. Workflow applications help business owners to automate their mundane business processes.
Workflow apps will break a workflow down into a set of data needed to complete the process, and a path for the data to follow. The workflow application will use a form to collect data at different points in the process.
A workflow application guides the process automatically, issuing notifications for humans to complete tasks or triggering system actions with specific commands.
The workflow application also collects data on how the workflow is functioning. It measures the amount of time an individual task takes, the amount of time the entire process takes, how often individual items are rejected or sent back to earlier steps, and where the typical backlogs occur.
Workflows are an integral part of operating a successful business when implemented properly. Workflows provide a specific direction for teams within an organization to follow and establish a standardized business process for completing predefined tasks.
A workflow application is a much sought-after efficiency tool among many industry verticals including manufacturing, IT, customer service, marketing, finance, etc.
Manual vs. Automated Workflow
When a workflow management application is not used, most workflows are handled manually. Manual workflows mean that at each task, a human must either pass the existing data to the next task owner (via email or a message) or manually insert specific commands for a system to follow.
Workflows can be paper-based or digital. However, the majority of automated workflow applications focus on digital-based data and communication. Conventional workflow processes were manual, wherein individuals had to go through several paperwork and tasks would progress at a slow pace. Manual workflows also involved a higher chance of human errors.
The advent of automated workflow applications has been transformative for businesses because they have removed the hassles of requiring manual intervention for repetitive tasks and mitigated risks. Automated workflows offer more control over process efficiency with little to no room for errors.
Who uses Workflow Apps?
Workflow apps are used by business users who are looking to streamline their processes without needing to code. A workflow application essentially helps them gain complete control over their functions by defining their processes, tracing a clear path of each request, and delegating steps to specific users. This helps them stay accountable, boost productivity, improve output quality, and drive timely results.
What are the Common Features of a Workflow Apps?
A workflow application comes with a robust set of features such as:
Easy workflow set-up - the ability to create sophisticated workflows from scratch

Comprehensive form builder - a form builder collects crucial information for context and actionability

Clear task routing/step delegation - the ability to delegate whole tasks or specific steps within the request

Traceability and visibility - the ability to track the status of each request

Collaboration interface - the feature allows teams to collaborate cross-functionally and reassign requests across departments

Reports and analytics - the ability to analyze and track crucial metrics, generate actionable insights and make improvements

Integrations - the ability to integrate with the most popular apps and software to enhance capabilities and functionality

5 Perfect Workflow Application Use Cases & Examples
1. Leave Requests
Paid time off (PTO) requests are the ideal candidate for workflows, preferred by over 50% of HR professionals in organizations around the world.
Leave requests usually involve clunky threads of emails, leaving HR scrambling to stay ahead of requests and track approvals. Keeping track of the approvals, rejections, and actual leaves can be pretty tough to manage when you rely on the manual effort.
Adding automation into the picture, the process gets streamlined: employees initiate the request, which then flows through standard approvals without anyone having to track down signatures or approval emails. This is only possible through workflows.
With the benefit of integrating databases, you can even get your automated leave record app to update leave balance instantly, with literally zero manual effort!
2. Budget Approvals
In the finance department, approvals are a known delay-causing area. Finance teams can spend upwards of 20% of a working week hunting for information to validate approvals. That's 8 hours per week–a full workday.
It's in the nature of the approval: multiple team members usually need to sign off on any given approval. This is independent of organization size, and it doesn't matter if you have a finance team or one person who takes care of invoice approvals and bills. Routine approvals are often delayed just because a team member is unavailable, or too busy, to sign off on an approval email.
A well-structured automation-powered workflow can route each approval request to the right people, sending notifications so they can sign off without having to update paperwork or lengthy email threads.
3. Purchase Orders
By routing purchase orders through an automated workflow application, team members in finance, acquisition, and other departments can execute this process much quicker and more efficiently.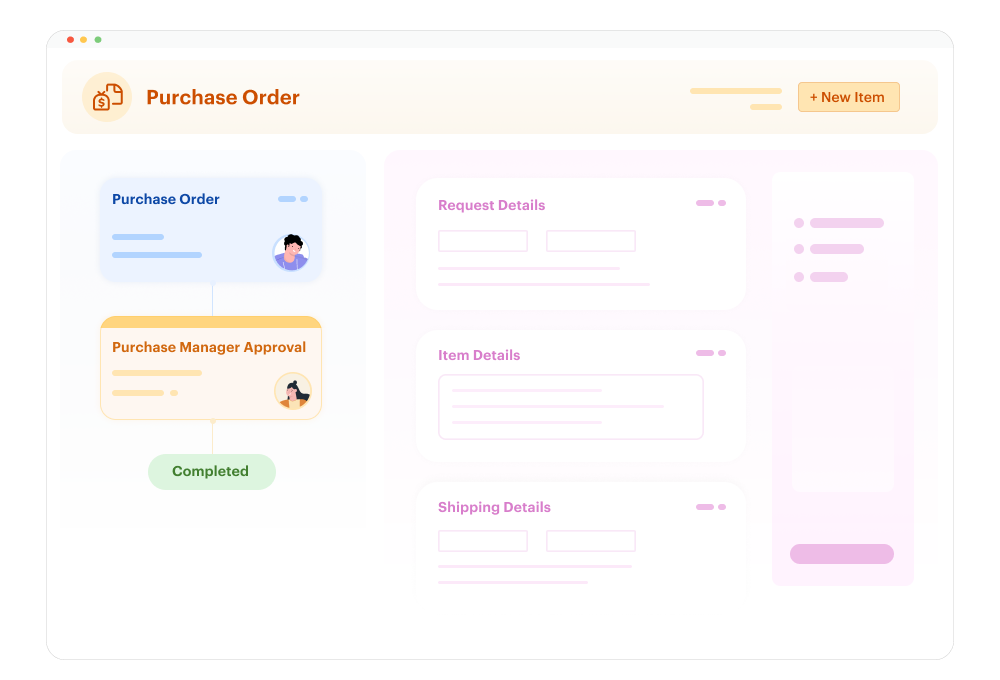 With a workflow-based, online purchase order software taking care of purchase orders, both initiators and approvers can look up orders whenever they need to. The best systems enable automation, and generate instant reports, allowing you to track, monitor, and analyze business costs on the fly.
4. Onboarding
Another popular candidate for workflows from the HR world, employee onboarding usually needs workflows to provide consistency and speed.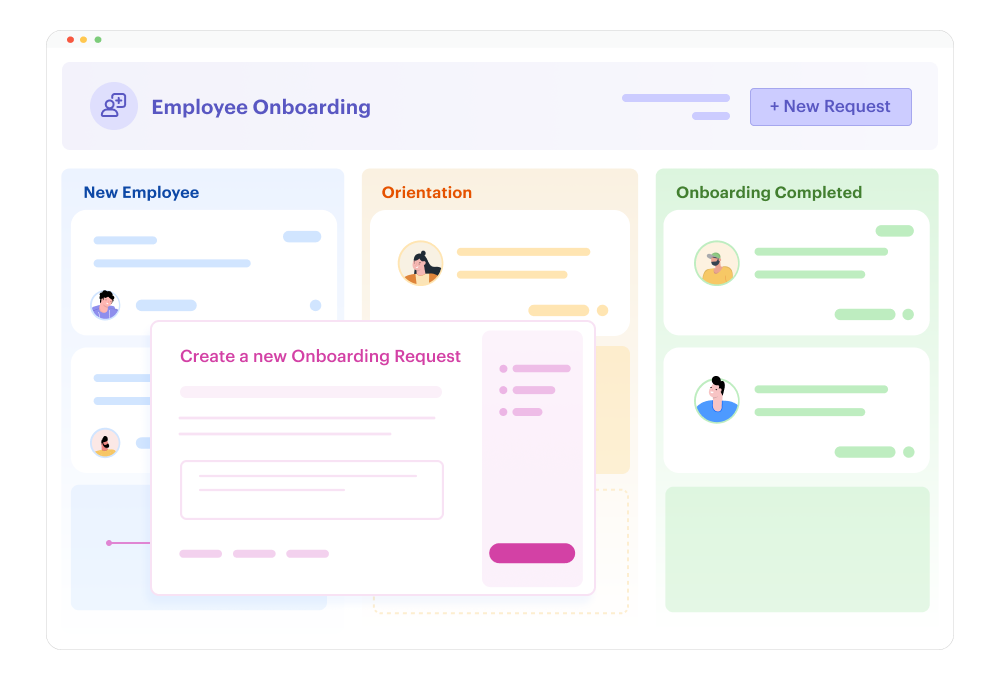 The second most automated process across HR departments is (in the traditional approach) usually carried out by multiple team members for different candidates. This chaotic system is dependent on someone overseeing onboarding to make sure that every new hire gets the same treatment and clear communication.
Workflow guidelines can bring the onboarding processing time down from a week to a few hours. There's no time wasted in getting each step approved and pushing the freshly signed employee to the next onboarding activity. Guidelines are clearly established; when they're followed, onboarding is consistent and transparent. Every new joinee gets the same amazing experience.
5. Content Marketing Requests
In the world of all-digital marketing, creative marketing teams generate a number of deliverables, including but not limited to ad copy, banner design, long-form articles, listicles, white papers, and ebooks.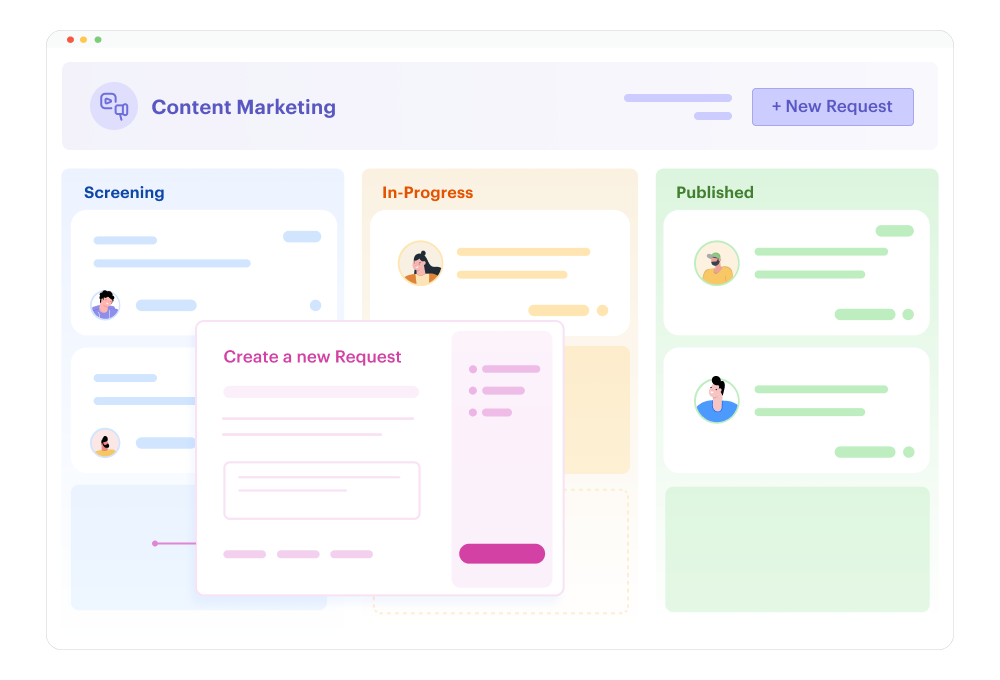 Usually, someone from SEO or in a decision-making marketing position will raise a ticket for a particular piece of content. Since creative team members work on a number of different projects from day to day, it's tricky to keep track of everything on the common weapon of choice, which is Excel or Google Sheets.
A workflow routes the content request through various approvers, creators, and editors. It makes sure the right piece of content is created by the appropriate team member and then gets transferred to the right approver.
Along the way, it eliminated chaos, confusion, and bottlenecks.
Summary
If you haven't started using workflow applications to manage your business, you need to start today. Picking a lightweight and flexible workflow software means that you can tailor the workflow to your specific situation. Kissflow's Workflow Platform is an easy way to make your own workflow applications without any complex coding.
If you have a workflow that's been dragging around lately, try building your own workflow application with Kissflow and see how easy it is!
Start Creating Your Workflow Applications with Kissflow